_______________
Starbucks sees greener pastures for consumer app, lids and straws
____________
Indian Trails Library solar panels go online – Daily Herald
_________
An Ocean Engineer and a Nuclear Physicist Walk Into Congress …
____________
Understanding the IPCC Special Report – Peter Gorr
_____________
Ambitious effort to clean up Great Pacific Garbage Patch faces major setback
______________
NWSOFA Climate Change Facebook Live November Meeting with Special Guest: Peter Gorr
_____________
_________
Starbucks makes big green store push
__________
America's About to Miss a Big Obama-Era..
_____
How the Koch Brothers Are Killing Public Transit Projects Around the Country The New York Times
____
McDonald's to Switch to Paper Straws in Britain as Country Turns Against Plastic – NYT
_____
Weatherman Skilling draws crowd at Palatine Sustainable Energy Expo
To celebrate the installation of solar panels on the roof of Countryside Church in Palatine, parishioners initially envisioned "a party with cake."
What the event ultimately became was a daylong Sustainable Energy Expo drawing more than 300 people, with keynote addresses from WGN Meteorologist Tom Skilling, Argonne National Laboratory scientist and author Seth Darling and Des Plaines Democratic state Sen. Laura Murphy.
But no cake.
"We decided we wanted to share with the community and other congregations what we had learned," said Mark Krivchenia, one of the parishioners who helped spearhead the campaign to outfit the church with solar panels. "In the end, it comes down to our belief that it's an ethical and moral issue to care for our common home."
The solar panels on the roof will cut the church's reliance on traditional energy sources by 40 percent. They have a guaranteed life span of 30 years and are expected to pay for themselves after eight to 10 years, Krivchenia said.
About a dozen exhibitors were invited to participate in the expo and share information on topics such as native plantings, recycling, renewable energy, electric cars and other conservation issues.
Linda Sullivan, a member of the Illinois chapter of the Sierra Club's executive committee, said interest in her group has grown significantly since President Donald Trump's election in November 2016, followed by his controversial appointments of Scott Pruitt to lead the Environmental Protection Agency and Ryan Zinke to serve as secretary of the interior.
"People have realized that they have to get involved and just being in favor of something and wanting something to get done is not enough," she said. "Trump has started a movement, even though it wasn't his intention."
For his part, Skilling lauded efforts by scientists and environmental groups that have been promoting ways to fight global warming by focusing on ways to reduce mankind's carbon footprint, the way the church has done.
Skilling talked about the broader economic and cultural ramifications of global warming, pointing out the loss of tourism jobs caused by the destruction or depletion of natural resources as well as human migration and military conflict caused by droughts brought on by climate change.
"The tentacles of climate change don't just affect our atmosphere," he warned. "People will say that climate change isn't real, and it's nonsense. The trend is real. Every serious scientific organization in the world agrees that climate change is happening."
_____
Bloomberg Pledges $4.5M to Cover UN Climate Dues Nixed by Trump
Former New York City Mayor Michael Bloomberg said Sunday he will write a $4.5 million check to cover this year's US financial commitment to the Paris Climate Agreement.
President Donald Trump last year pulled the United States out of the pact, which every other country has committed to ratifying.
In an interview with CBS to mark Earth Day, Bloomberg said he was obligated to honor America's financial commitment.
"America made a commitment and as an American if the government's not going to do it we all have responsibility. I'm able to do it," he said. "So, yes, I'm going to send them a check for the monies that America had promised to the organization as though they got it from the federal government."
Bloomberg, a billionaire philanthropist, said he hopes by next year Trump will change his mind despite his criticism of the agreement. But if the United States does not rejoin the pact, Bloomberg will continue to foot the annual bill, according to a statement by Bloomberg Philanthropies, the charity he founded.
"Our foundation will uphold our promise to cover any cuts to UN climate funding by the federal government," Bloomberg said in the statement.
UN Climate Changed ​welcomed the donation, saying, "Financial support of this kind is critical to mobilizing climate action leading up to 2020 and fostering synergies across sectors and geographies in the context of sustainable development."
BACKSTORY
Bloomberg last year joined members of the US Conference of Mayors in opposing Trump's withdrawal of the US from the Paris Climate Agreement and committing to meet environmental goals despite the move.
Bloomberg also announced that Bloomberg Philanthropies, would help coordinate a U.S. effort called "America's Pledge" and submit a societal NDC – nationally determined contribution – in place of a government one.
Last year, Bloomberg pledged to provide the $15 million that he says the U.N. Climate Change Secretariat will lose from Mr. Trump's withdrawal from the pact.
_____
To Curb Ocean Pollution, U.K. May Ban Plastic Straws, Stirrers And Cotton Swabs – NPR
___
White Sox to become first MLB team to stop serving plastic straws – WGN
_____
This floating gadget wants to suck up the ocean's trash – Mashable
_____
A major climate boundary in the central U.S. has shifted 140 miles due to global warming – USA Today
_______
How to Reduce Your Carbon Footprint – The New York Times
_____
Solar panels put savings on the horizon – Daily Herald
—-
Solar power industry lost nearly 10,000 jobs in 2017 – The Hill
——
Pollen data shows humans reversed natural global cooling – The Guardian
——
Preaching climate-friendly farming in Trump country – The Washington Post
——-
Trump's Solar Tariffs Undermine Remarkable Industry Progress | NRDC
——-
Women's Rights Issues are Climate Change Issues
______
Even Breathing Is A Risk In One Of Orlando's Poorest Neighborhoods – HuffPost
_______
President Trump Slaps Tariffs on Solar Panels in Major Blow to Renewable Energy
______
Sauk County Board gives final approval to much-debated solar deal
______
In 2018, expect 'clean energy' to be cheap energy – The Hill
———-
Solar panels can live in your window blinds – Mashable
________
Green technology: Solar window blinds can both block and harvest solar power – TomoNews
__________
Trump-appointed regulators reject plan to rescue coal and nuclear plants – Washington Post
______
Solar panels have gotten thinner than a human hair. Soon they'll be everywhere – VOX
_______
Love solar power but got no rooftop? "Shared solar" is coming for you – VOX
_______
Sauk County Board again postpones solar proposal | Regional news | wiscnews.com
________
Sauk County Board to consider solar deal Tuesday – Baraboo News Republic, Wisconsin
______
_____
The U.S. Is Tackling Global Warming, Even if Trump Isn't – NYT Opinion
_____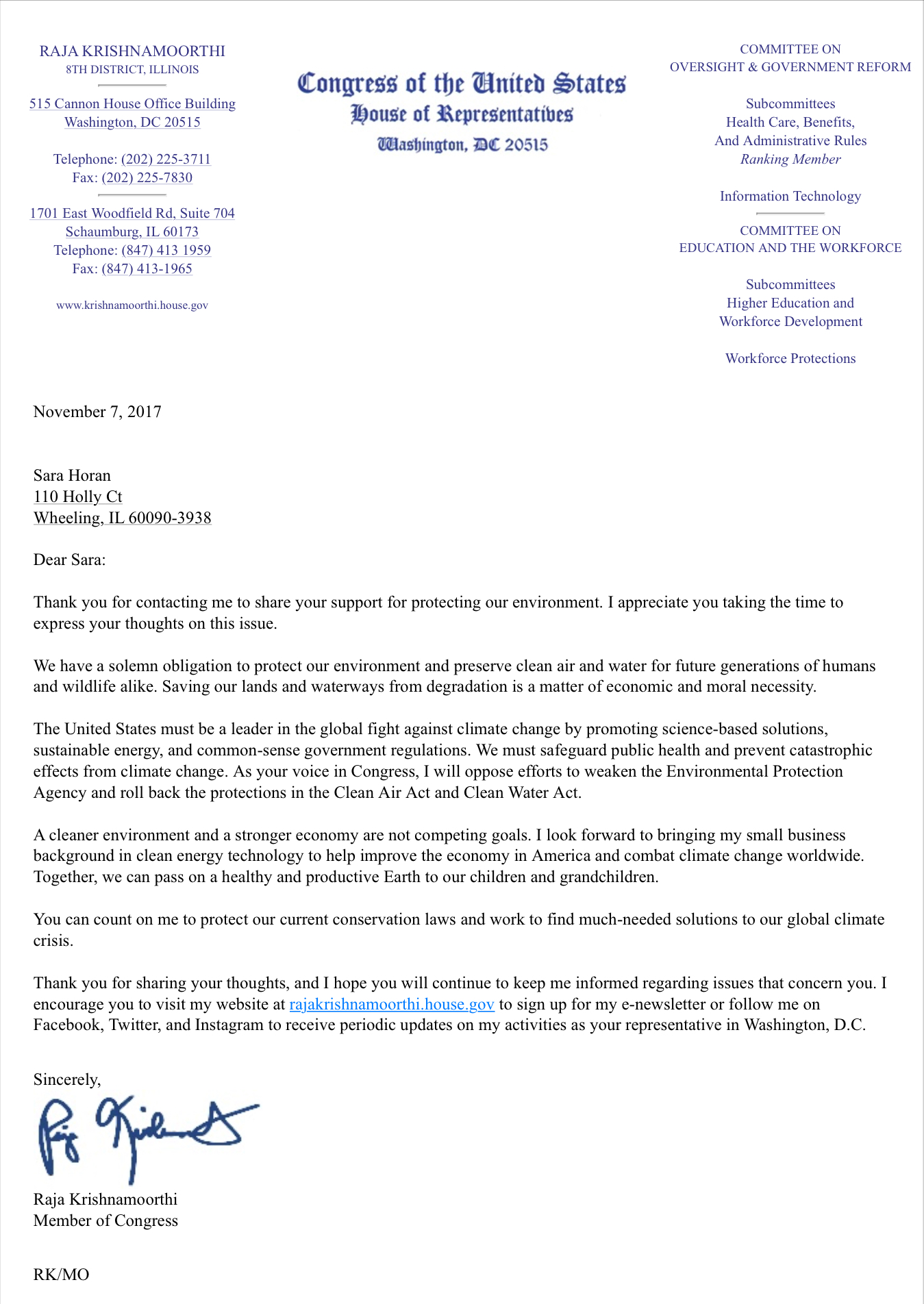 ______
11-21-17 "Before the Flood" Film Information
________
11-8-17 Sean Casten's NWSOFA Presentation
_________
Lisa Murkowski Introduces Bill To Open Arctic Wildlife Refuge To Oil Drilling "This is not a choice between energy and the environment," the senator said. "We are past that." – Huff Post
_________
Green group, children sue Trump over climate change policies – The Hill
__________
Trump administration releases report finding 'no convincing alternative explanation' for climate change
__________
EPA's climate website removes resources to fight climate change – Salon
____________
Climate Change Is Complex. We've Got Answers to Your Questions – NY Times
____________
Wind and solar power are saving Americans an astounding amount of money David Roberts/Aug 18, 2017 – VOX
_______________
Rauner-Funded Group Pushing Fake Science on Illinois Schools – Democratic Governors Association
________
States Dare to Think Big on Climate Change – NY Time Editorial
________
---
War on Science: Here Are Some of the Banned Words at Trump's Ag Department
—-
Vail Resorts promises to eliminate emissions, waste and offset forest impact by 2030 Resort operator would like all of its electricity to come from renewable sources
________
This week, former Vice President Al Gore returns to the big screen with An Inconvenient Sequel: Truth to Power, sounding the alarm on the climate crisis transforming our planet and sharing the truth about clean energy solutions. We're happy to be partnering with our friends at Paramount Pictures and Participant Media to help spread the word about this exciting new film.
An Inconvenient Sequel: Truth to Power highlights our Climate Reality Leaders in action, showing what can happen when people around the world come together for one cause and join the movement for solutions.
Our over 12,000 Climate Reality Leaders are making a difference now more than ever. On June 1, President Trump announced the United States would begin the process of withdrawing from the historic Paris Agreement, which brought 195 countries and parties together to cut greenhouse gas emissions and solve the climate crisis devastating our planet.
That's why we need you to take action too. If you're ready to get involved, download our I Am Still In action kit. We're excited to share that Participant Media is featuring our toolkit as an action everyone can take to help end the climate crisis and uncover the potential for solutions and change.
In the toolkit, you'll learn:
The facts about the Paris Agreement.
Who's still supporting the US' commitments to climate action.
How you can help build support for clean energy and other climate solutions.
Download the toolkit now and make sure to see An Inconvenient Sequel: Truth to Power when it hits theaters nationwide next week. You also have the chance to buy one movie ticket and get a second one free! Click here and use the code CLIMATEBOGO at checkout. This is a limited-time offer, while supplies last. See promotion terms here: atm.tk/aisbogoterms.
GET YOUR TICKETS
Now more than ever, our future is in our hands – and we need you to help us seize the moment. Thank you for taking climate action!
– Your friends at Climate Reality
AN INCONVENIENT SEQUEL: TRUTH TO POWER
BUY ONE TICKET, GET ONE FREE
LEARN MORE
______