Five years ago, in January 2013, we started as a gathering of friends and neighbors from the NW Suburbs who wanted to continue to have impact on the progressive issues we voted for in 2012. This grassroots, bottom up movement spread across the country and sparked the creation of Organizing for Action, OFA National, which now has  Chapters all over the country. This is a non-partisan, volunteer organization that focuses on progressive issues we are committed to taking Action on to make a difference locally, statewide and nationally.
NWSOFA's first Issue Team was  right after the tragedy at Sandy Hook. The Gun Violence Prevention (GVP) team felt we needed accurate information and facts, events to teach others and actions we could take to make a difference on pushing for common sense gun violence prevention. That has been our basic format as new issues arose and team developed. We now have the issue teams of Gun Violence Prevention, Affordable Care Act, Climate Change, College Outreach, Comprehension Immigration Reform, Fiscal Issues, Social Justice Outreach, Stand with Women, and new ones beginning in 2018.  Check out their individual pages to see all the events they have scheduled and to join the teams you want to make a difference with.
OFA National coordinates "Days of Action" that Chapters across the country will all do on the same day. Each team also has local events and may work with affiliate organizations i.e. Sierra Club, Al Gore Reality Project, etc. to combine like-minded groups on a local, state or national event.
In this type of organization, there are numerous ways you can be involved with the teams and in other roles. We were looking for ways to get our events out through social media, press releases, and coalition partnerships.
 You may have a special skill we haven't even thought about give us a call we're always open to new ideas and teams.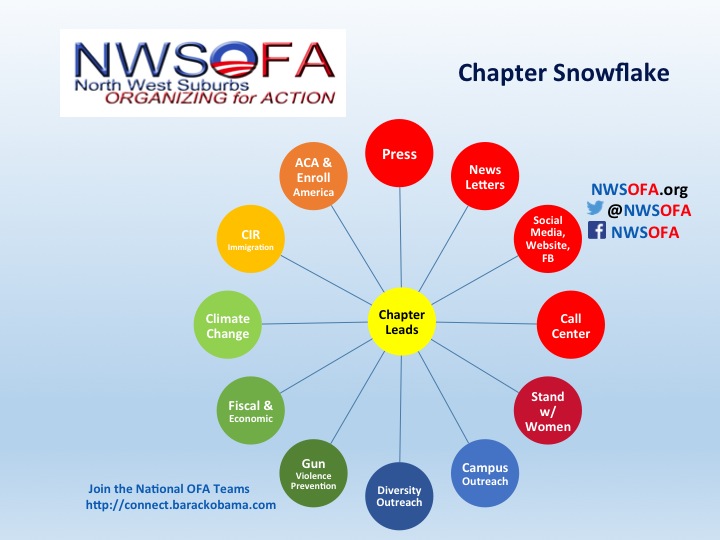 Thanks for stopping and hope you'll stay and join us.
Sara Horan and Bill Davis Chapter Co-Leads
Sara Salvato Horan
847-372-5594
Respect, Empower, Include and ACT
In carrying out its work, OFA will operate as a "social welfare" organization within the meaning of section 501(c)(4) of the Internal Revenue Code.