______________
For more information about the Firearm Restraining Order, here is the website:
_____________________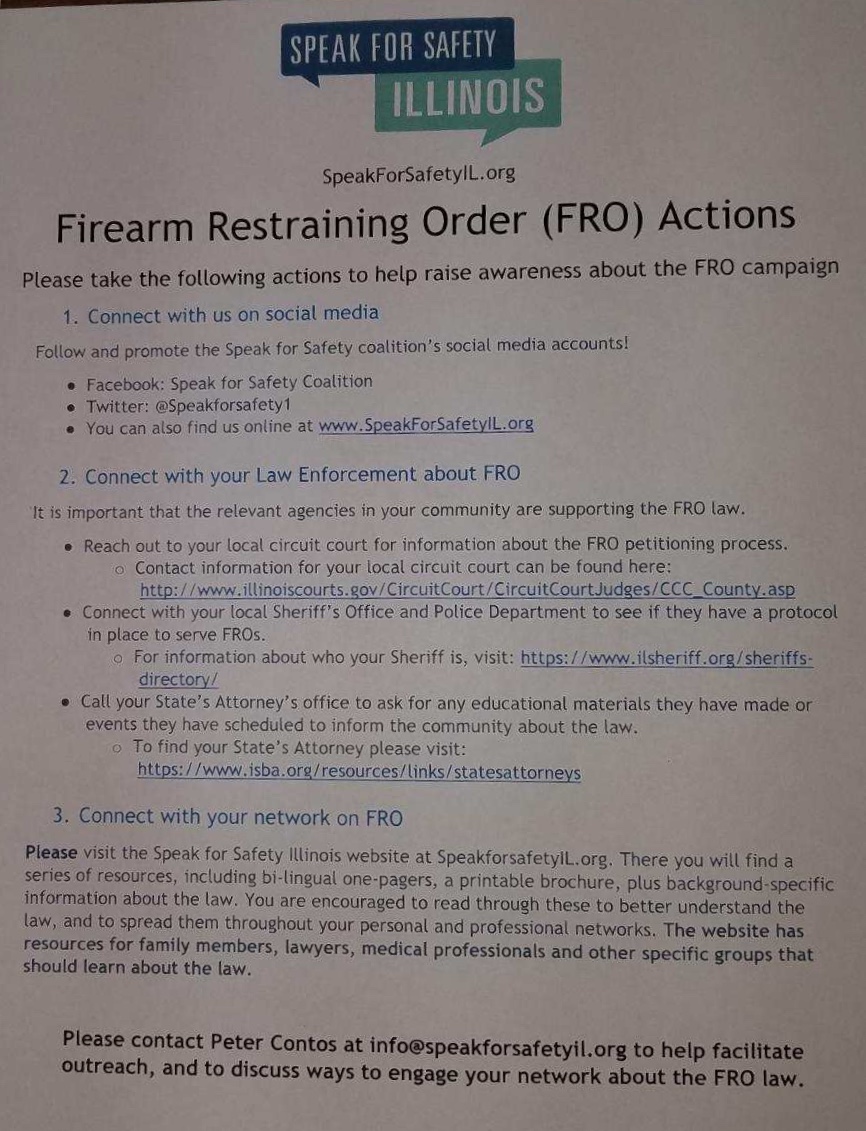 _________________
Firearms dealers, state rifle association challenge new Illinois gun licensing law  –  PETER HANCOCK Capitol News Illinois
________________
Fla. woman took husband's guns to police, was arrested
________________
Free online course from Johns Hopkins now available! Johns Hopkins's MOOC – Reduing Gun Violence in America: Evidence for Change. Open to everyone!
How to Enroll:
Go to http://www.coursera.org
Create a user profile. Search for "Reducing Gun Violence in America: Evidence for "Change" or "Hopkins" or "gun violence." Once you have found the course on Coursera, follow the prompts to enroll. There is no cap on enrollment or designated sighup period. The course will be accessible on Coursera indefinitely. You can audit the course for free. Auditing gives you access to lectures, readings and ungraded assessments. You are not required to complete any of the assignments.
_____________________
Guard at Colorado school shooting may have shot at deputies, wounded student amid chaos: Source
_____________________
Active-Shooter Drills Are Tragically Misguided – The Atlantic
______________________
Summer Youth Institute Reducing Gun Violence in America: Evidence for Change – Click for more information!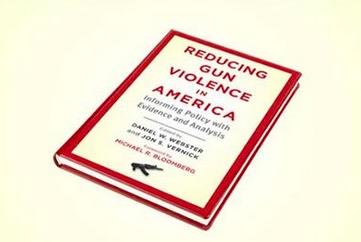 ______________
_________
_____________
________________
______________
David Hogg, March for Their Lives Speaking Event in Evanston, IL Videos
______________
________________
________________
__________________
_______
The state of gun violence in the US, explained in 18 charts – VOX
______
The 4 Most Overpowered Weapons In 'Fortnite: Battle Royale' Right Now – Forbes
_______
'Good Morning America': Should Parents Worry About 'Fortnite?' The show did a segment today about the time children spend playing the game
_____
Guns banned from NRA event during Mike Pence address
______
First, thank you for all you have done, up against incredible odds, to do the right thing in serving as an advocate for the safety of our families and communities by fighting to make the Gun Dealer Licensing Act (SB 1657) the law in Illinois.
Over the last year we launched an aggressive grassroots and digital campaign to reach tens of thousands of residents across Illinois to engage them around this common-sense legislation that would place basic safety measures in place at gun dealer shops throughout the state, and keep thousands of illegal guns out of our communities. Thanks to the hard work of this coalition, people across Illinois joined forces to support passage of this bill. Republicans, democrats, conservatives, independents and even gun owners agreed this bill is the right thing to do. And the legislature listened to them, passing it out of both the House and the Senate.
Instead of signing this legislation into law, Governor Rauner sided with the gun lobby over the safety of families, children and law enforcement officers by vetoing this bill.
Even though we're not able to meet the override deadline set forth in state law to reverse the governor's veto, we're not done yet.
We are joining Senator Harmon, the lead sponsor of SB 1657, who is re-introducing the substance of the Gun Dealer Licensing Act as an amendment to an existing bill, SB 337. We will join him to immediately start the work needed to gather support for this bill.
We will call on you again to join us in putting the safety of our families and communities before that of the gun lobby in the coming days and weeks ahead. It's our one job to keep our children safe and we remain united in the commitment.
Thank you,
Colleen Daley                          Kathleen Sances
Executive Director                President &CEO
ICHV                                          GPAC
_________
Mei-Ling HO-Shing from Marjory Stoneman Douglas High School addresses the Illinois Education Association Representative Assembly 4-20-2018
__________
____________

The April 7, IL06 Town Hall for Our Lives in Glen Ellyn was an incredible achievement by the students from three area high schools who organized it. The students invited Rep. Peter Roskam, who declined along with every Republican member of congress nationwide. Democratic candidate, Sean Casten, answered scores of questions on gun violence prevention from students and other attendees.
You can watch the entire Town Hall here. Also, take a look at WGN's coverage, or the MySuburbanLife article. The event was a lead story on the nightly news across the Chicago TV networks.
_______
Judge: Assault weapons ban doesn't violate 2nd Amendment – AP
______
Illinois town votes to ban assault rifles, fine violators up to $1,000 per day – CBS News
______
SEVEN STEPS. 27,000 LIVES. The Boston Globe
——
Local March For Our Lives Rallies Are Saturday "The voices for the March for Our Lives are those of the generation that grew up with mass shootings." Libertyville Patch
____
Deerfield Moves Forward With Assault Weapons Ban: An assault weapons ban could take effect before the end of May in Deerfield, as trustees unanimously approved a staff recommendation Monday
________
 

Fellow Illinoisan,

 

The clear question we have in America today is whether we've reached a tipping point when it comes to gun violence. It's only been 15 days since the tragedy in Parkland, Florida, but look at what's happened since. Of course, there's been outrage, sadness and mourning for the families that lost wonderful students, teachers and administrators. But, beyond that, we've seen students and young people across the country changing the debate about gun violence. They are making clear how absurd it is for lawmakers to do nothing when Americans are getting shot every day in their homes, neighborhoods, at church, at a nightclub, at a concert, and at school. They are fed up with politicians in Washington who ignore the overwhelming majority of Americans who want common sense gun reforms and instead listen to a paranoid, bullying gun sales lobby. Enough is enough.

DURBIN CALLS ON CONGRESS TO TOUGHEN GUN LAWS

This week, I welcomed students from Stoneman Douglas High School  into my office to discuss what steps we'd like to see Congress take that can help prevent gun violence tragedies. While there is no single reform that could stop every shooting, we know there are big gaps in our gun laws that make it easy for criminals, abusers, troubled children, and mentally unstable people to get guns—even military-style assault weapons with bump stocks. We need to start closing these gaps, and that requires the Republicans who control Congress to finally stand up to the NRA and do something about it. Students and businesses are showing leadership in working to reduce gun violence, it's now up to Republicans in Congress to do the same.
_______
We did it! Thanks to you, we put the by safety of children and families first by standing firm against the gun lobby in Springfield and achieving a historic victory to help stop illegal firearms from flowing into communities across Illinois.
In passing the landmark Gun Dealer Licensing Act this afternoon with strong bipartisan support, the Illinois House sends to the governor's desk a bill that will literally save the lives of children, fathers, mothers, brothers and sisters across Illinois.
SB 1657 also marks passage of the first major state legislation aimed at reducing gun violence in the U.S. since the tragic mass shooting in Parkland, FL earlier this month; and it would not have been possible without broad, bipartisan support among legislators, a winning alliance of more than 130 organizations in the Illinois Gun Violence Prevention Coalition, and like-minded residents across Illinois who flooded their State Representatives and State Senators with thousands of emails, social media posts and phone calls urging them to do #OurOneJob and put the safety and well-being of children ahead of the gun lobby.
Your efforts helped build momentum that carried us through the final hours before today's historic vote. Yesterday morning, the NRA witness slips far outnumbered those of our supporters in House committee. But our supporters and allies rallied, and by midday, we had bested the NRA by 800 or more slips in support across five bills, a show of strength and a reminder of the power we have when we work together for a just and common cause.
We have achieved a great victory together, but our work is not yet complete. Governor Rauner must sign this bill into law and we won't rest until that is done. But today, hold your head high and rest assured that your leadership made our communities free and safe and gun violence.
Colleen Daley, Representative Kathy Willis, Kathleen Sances
Sincerely,
Colleen Daley                          Kathleen Sances
Executive Director                President &CEO
ICHV                                          GPAC
_____
_____
_____
_____
_____
____
_____
____
____
______
_____
____
Dems say GOP focus on mental health is redirection from gun control – The Hill
——-
House Passes Bill To Allow 'Concealed Carry' Across State Lines – NPR
——-
_______
_________
____________
Teen speaks clearly on gun control: 'We're children … get something done'
______
Sandy Hook mom slams Trump for hosting NRA head on anniversary of shooting
________
GOP-led House passes bill making it easier for gun owners to carry concealed weapons across state lines – Chicago Tribune
_______
Reflections on Newtown, Five Years Later
_______
Exclusive: Feds issue 4,000 orders to seize guns from people who failed background checks – USA Today
________
Bipartisan deal on gun control unveiled – NBC News
_________
Brady Center Responds To Shooting in California
_________
Giffords gun group sues Trump administration
__________
Senator Martin Heinrich and Senator Jeff Flake introduces a bill to permanently close the domestic violence loophole
__________
Most Americans support stricter gun laws. Here's why nothing happens. These two charts help make sense of America's gun politics. – Vox
__________
Massachusetts Becomes 1st State To Ban Bump Stocks After Las Vegas Massacre
__________
GUN TRACE REPORT 2017 – City of Chicago
__________
Lake County GOP gun raffle draws about 100 protesters
__________
Gun Control Measures Proposed in Illinois
__________
Editorial: How Congress can pursue a reasonable gun debate – Chicago Tribune
__________
Gun violence in America, explained in 17 maps and charts In the developed world, these levels of gun violence are a uniquely American problem. Here's why. – Vox
__________
Struggling Gun Industry Looks To Congress To Make Silencers The Next Big Thing – HuffPost
___________
House votes to strike rule banning guns for some deemed mentally impaired
____________
New Missouri concealed weapons law to take effect – KSHB Kansas City
_____________
Woman Carjacked at Gunpoint in Arlington Heights – Patch
_____________
New Illinois law says people with a restraining order can't own guns
_______________
IL Gov. Rauner Signs Plan Limiting Mentally Ill From Owning Guns – ABC7Chicago
________________
There's Something Disturbing About The Way Cops Act Just After They've Shot Somebody – Huffington Post
_________________
#DisarmHate  Congressional Media Clips – July 1, 2
#DISARMHATE Congressional Clips
_________________
Fellow Illinoisans,
Yesterday, U.S. Representatives Robin Kelly, Jan Schakowsky, Danny Davis, Mike Quigley, Bill Foster, and Steny Hoyer joined with local leaders and advocates at a rally in Chicago to call for immediate action on gun violence. I wrote a letter of support for their efforts and to let the people of Chicago and Illinois know I will continue pushing for common sense gun reform.
You can read my letter on Medium HERE .
To the people of Chicago,

I want to thank everyone who gathered in Federal Plaza in Chicago today to deliver a simple message: enough.

We've had enough of the shootings that happen every day in the neighborhoods of Chicago and across America. We've had enough funerals…enough families who now face an empty seat at the dinner table…enough parents who have to walk every day past an empty bedroom because their son or daughter was taken from them by gun violence. Enough shootings of men, women and children while they are sitting on their porches, walking on sidewalks, and standing in parks.

We've had enough with loopholes in our gun laws that allow dangerous people to get their hands on guns. We've had enough with the gun traffickers and straw purchasers who buy guns out of state and sell them out of the trunks of their cars in Chicago. We've had enough with the gun shows where you can buy from private sellers with no FBI background check. And we've had enough with lawmakers who are too scared of the gun lobby to stand up and fix our laws to keep our kids and our communities safe.

As Congressman and civil rights leader John Lewis said, "Sometimes by sitting down, by sitting in, you're standing up." Last week, Congressman Lewis along with several members of the Illinois Congressional delegation led a sit-in on the floor of the House of Representatives to demand action from Republicans in Congress. All they wanted was a vote on common-sense legislation to close loopholes in our gun laws. These reforms are supported by 90 percent of the American people, and they would help save lives here in Chicago. But the gun lobby does not want to close these loopholes because it might hurt their gun sales. So the Republicans in the House shut down the C-Span cameras and closed the chamber rather than call a vote. They were hoping to silence the voices of those calling for reform.

But we will not be silent. We will continue to work tirelessly in Chicago, in Washington, D.C., and in every community across the country to address the epidemic of gun violence.

When Americans are being shot and killed in their homes and neighborhoods, lawmakers have a responsibility to act. So many of the shootings that kill and injure people in Chicago are preventable. Our laws must be fixed to keep guns out of the hands of dangerous people. We have to keep speaking out for common sense reforms. If we do, we can beat the gun lobby and save lives.

As John Lewis said, "we're going to continue to push, to pull, to stand up, and if necessary, to sit down. So don't give up, don't give in. Keep the faith, and keep your eyes on the prize." We will. Because we've had enough.

If you are an Illinoisan visiting D.C. call my office (202-224-2152) and ask for more information on how to attend an Illinois Constituent Coffee
Sincerely,
Dick Durbin
United States Senator
__________
__________
Court: No right to carry concealed weapons in public
__________
A Weekend in Chicago: Where Gunfire Is a Terrifying Norm – New York Times
__________
____________________
____________
NWSOFA GVP Partners with GVP Groups and Meets with Gabby Giffords
Today, ICHV proudly stood with former Congresswoman Gabrielle Giffords and our gun violence prevention partners from across Illinois to officially launch the Illinois Gun Violence Prevention Coalition to urge state leaders to support a new proposal what will be introduced next week, the Gun Dealer Licensing Act.
The measure would give state authorities and law enforcement the tools to encourage better business practices among federally licensed gun dealers and hold corrupt dealers accountable to slow the flow of illegal gun trafficking in Illinois and help keep guns out of the wrong hands.
Negligent gun dealers within Illinois fuel the illegal gun trade. From 2009 to 2013, 40 percent of the guns used in crimes in Chicago came from gun dealers within Illinois. But thanks to loopholes in federal law and a lack of federal resources for enforcement, Illinois doesn't have the tools and authority it needs to combat illegal or negligent business practices that threaten Illinois families.
"Stopping gun violence takes courage – the courage to do what's right, and the courage of new ideas. I've seen great courage when my life was on the line," said Congresswoman Giffords in a speech at this morning's announcement. "Now is the time to come together – to be responsible! Democrats, Republicans – everyone."
The Gun Dealer Licensing Act which will be sponsored by State Senator Don Harmon, and State Representative Kathleen Willis, will strengthen Illinois' laws and help slow the flow of illegal guns through a number of small changes to the state's laws, including:
·      Law enforcement inspections
·      Background checks on all employees
·      Video surveillance and improved security
·      Training and education for gun dealer employees
"Illinois is in the grips of a gun violence crisis that claims a life every eight hours. As a state and as a nation, we must do better – and we can start by making it harder for dangerous people to get guns. That means supporting a responsible proposal like this one to give our state authorities the tools they need to combat illegal gun trafficking and ensure fewer criminals get a gun," said Colleen Daley, Executive Director. "This kind of commonsense step won't prevent every gun tragedy in our state, but it will help save lives – and we think that's something worth fighting for. I hope our leaders in Springfield from both sides of the aisle can come together to support this badly-needed change to our laws."
Between 2002 – 2014, 14,273 people were killed with guns in Illinois, nearly three times the number of all U.S. combat troops killed in the Iraq and Afghanistan wars combined.  A person is killed with a gun in Illinois every eight hours.  In 2014, 1,179 people were killed by guns in Illinois.
Groups represented in the Illinois Gun Violence Prevention Coalition include:
ABJ Community Services
All Saints Episcopal—Chicago
Americans for Responsible Solutions
Ann & Robert H. Lurie Children's Hospital
Brady Campaign to Prevent Gun Violence
Catholic Charities
Center for American Progress
Chicago Board of Rabbis
Chicago Survivors
Chicagoland Brady Chapter
City Church of Chicago
Community of Congregations
Community Renewal Society
Countryside Unitarian Church
Emanuel Congregation
Evangelical Lutheran Church in America
Faith Community of St. Sabina
Greater Institutional AME Church
Gun Responsibility Advocates
Gun Violence Prevention PAC (G-PAC)
Howard Area Community Center
Illinois Chapter, American Academy of Pediatrics
Illinois Conference of Churches
Illinois Council Against Handgun Violence (ICHV)
Increase the Peace Englewood
Jewish Council on Urban Affairs
Joint Action Committee for Political Affairs (JAC PAC)
League of Women Voters of Illinois
National Gun Victims Action Council
Northwest Suburbs Organizing for America
Open Communities
Organizing Catholics for Justice
Organizing for America Chicago North Chapter
Our Lady of Perpetual Help
Parents for Peace and Justice
Peace & Justice Committee Episcopal Diocese of Chicago
Peaceful Communities
People for a Safer Society
Presbyterian Church USA
Progressive Community Church
Purpose Over Pain
Quinn Chapel AME Church
Saint Joseph Anglican—Springfield
Saving Chicago's Youth
Seabury Western Theological Seminary
St. Felicitas Catholic Church
St. Francis Xavier Parish
St. Joseph Anglican
Strengthening Chicago's Youth
The Peace & Justice Committee of St. Edmunds
United Church of Christ
United Church of Rogers Park
United Methodist Church
________________________
GABBY GIFFORDS COMES TO ILLINOIS TO PROMOTE GUN DEALER LEGISLATION – ABC7 Chicago
________________________
Illinois bills would limit mentally ill from owning guns – ABC7 Chicago
__________________________
Gun Sales in Illinois Soaring – Chicago Sun-Times
___________________________
Recent Illinois Gun Sales Breaking Monthly Records – ABC Chicago News
___________________________
Gun Maker Seeks Dismissal Lawsuit over Newtown Shooting – ABC News
___________________________
What mom of boy who shot himself wants you to know – USA Today
____________________________
Concealed Carry Permit Applications Drop Across Illinois – AP via Daily Herald
_____________________________
https://soundcloud.com/organizing-for-action/january-8th-call-with-president-obama
______________________________
________________________
___________________________

Fellow Illinoisans,

 

Every day, 297 people are shot by guns in America and 89 die from their injuries. By one count, there have been at least 352 mass shootings in America so far this year – more than one per day. America's schools have seen more than 50 shootings this year.

These numbers are horrifying.

This cannot simply be accepted as normal.
Yesterday, I met with representatives from Americans for Responsible Solutions to discuss legislation I've cosponsored to crack down on gun trafficking. Founded by former Representative Gabby Giffords and her husband, NASA astronaut Mark Kelly, Americans for Responsible Solutions works to prevent gun violence and encourage responsible gun ownership.
Click here to watch my remarks from my meeting with Americans for Responsible Solutions .
To combat the scourge of gun violence in our communities, I've joined several of my colleagues in introducing common sense legislation to prevent gun violence and save lives.
Denying Firearms and Explosives to Suspected Terrorists
Last week, I joined some of my colleagues in urging Senate Majority Leader Mitch McConnell and Speaker Paul Ryan to quickly schedule votes on legislation that would close an egregious loophole and prevent individuals on the Federal Terrorist Watchlist from being able to purchase firearms and explosives. Suspected terrorists who we consider too dangerous to board airplanes should not be able to walk into any gun store in the United States and purchase a firearm or an explosive for the purpose of carrying out a terrorist act.
Tracing Crime Guns
To help crack down on gun violence and gun trafficking, earlier this year I introduced the Crime Gun Tracing Act , legislation that encourages law enforcement agencies to take full advantage of crime gun tracing resources offered by the Bureau of Alcohol, Tobacco, Firearms and Explosives. Increasing the use of crime gun tracing can help generate leads in criminal investigations and reveal how guns are trafficked into criminals' hands.
According to the ATF, although it costs police departments nothing to use federal crime gun tracing resources, many police departments across the country aren't taking full advantage of this basic tool in fighting gun violence. I am working to ensure that every law enforcement agency that has not already signed up to use ATF's tracing resources will do so.
Stemming the Flow of Illegal Guns
A recent New York Times article found over 50,000 guns fall into the hands of criminals across state lines each year, with many more likely crossing state lines undetected. Despite being one of the key drivers of gun violence in Illinois, currently there is no federal law specifically prohibiting gun trafficking. To crack down on the daily flow of illegal guns, I joined Senators Kirsten Gillibrand and Mark Kirk in introducing a bill that would make gun trafficking a federal crime and provide tools to law enforcement to get illegal guns off the streets.
Enough is enough. It's time to summon the political will and act on gun violence.

 

Sincerely,

Dick Durbin
United States Senator
___________________
Anti-Gun Group Wants Mariano's to Ban Firearms in Stores – Patch
Supreme Court weighing whether to take up Highland Park assault weapon ban – Chicago Tribune
Lions Gun Shop Ordinance – Chicago Tribune
NWSOFA GVP Team Partner Event with People For A Safer Society
As you may know, last week the Village of Niles approved the extension for the special use permit allowing the gun shop and firing range planned for 6143 Howard Street in Niles to proceed with plans to begin construction. We are not giving up and we appreciate your support. Here is some news coverage:
_________
Articles on Gun Violence Prevention – Suggested by Members of the NWSOFA GVP Team
Essential Facts About Guns and Mass Shootings in America – Washington Post
_______________
The Grin of a Fool- Gun Control and the NRA By- Rosemary and Walter Brasch The Bradford Era
________________
"After Charleston Voters Must Demand New Gun Laws," Scot Lehigh: Boston Globe.
A recent Op-Ed column from the Boston Globe addressing politics surrounding gun violence prevention, the NRA, and Congressional failure to take action to reduce gun violence in America.
https://www.bostonglobe.com/opinion/2015/06/23/after-charleston-voters-must-demand-new-gun-laws/AkTI6dvy7hQMVmCfn2L2DM/story.html
_____
"What Does Gun Violence Really Cost?" Mark Follman, Julia Lurie, Jaeah Lee, and James West: Mother Jones.
Interesting report published in Mother Jones earlier this year covering an extensive investigation of the true costs of gun violence in America.
http://www.motherjones.com/politics/2015/04/true-cost-of-gun-violence-in-america
_____
"Tracing the Guns: The Impact of Illegal Guns on Violence in Chicago,"
City of Chicago – Office of the Mayor and Chicago Police Department.
Data based research report investigating the impact of illegal guns on violent crime in Chicago and on the scope of the City's illegal gun market. This report includes eye-opening information on the small percentage of gun dealers that sell most of the guns used in criminal activities. The report is interesting but somewhat lengthy. If you want to go to the heart of the issue, start about halfway down Page 6 with Section II B.
http://www.cityofchicago.org/dam/city/depts/mayor/Press%20Room/Press%20Releases/2014/May/05.27.14TracingGuns.pdf
_____
"Children and Guns: The Hidden Toll," Michael Luo and Mike McIntire: New York Times
An in-depth report on accidental firearm deaths of American children, covering both how such shootings occur and ways in which they might be prevented.
http://www.nytimes.com/2013/09/29/us/children-and-guns-the-hidden-toll.html?emc=edit_th_20130929&nl=todaysheadlines&nlid=28041097&_r=0
______________________________________
_________________________________________________________
__________________________________________________________________
What can you do to help prevent gun violence?
GVP List for You to Take Steps to be a Part of the Solution
_____________________________________________________________
Community Group Sues 3 Chicago Suburbs Over Gun Sales
____________________________________
Informational Articles on Guns in Chicago and Illinois
Tracing Guns – Office of the Mayor, Chicago
________________________________________
NWSOFA Gun Violence Prevention Team Joins Coalition Partners at Chuck's Gun Shop Rally
ABC-7 News Broadcast: Protesters Take Aim at Bad Apple Gun Dealers at Chuck's Gun Shop in Riverdale
CBS-Chicago News Broadcast – Pro and Anti-Gun Advocates Rally Outside Riverdale Gun Shop
__________________________
#WearingOrange Day
Gun Violence Prevention – We Are the Majority
Gun Violence Prevention – We Are the Majority by: Matt Flamm
Illinois State Police
Download the sign that every Illinois homeowner, business, school, house of worship and hospital – by law – must display to keep concealed guns from being carried inside their dwelling/buildings. Also for any and all questions you have regarding the Illinois concealed carry law – this is where you can get answers. Many local police departments right now are referring all questions about the concealed carry law to this site.
It Can Happen Here
This group asks people to take action locally and nationally in the areas of bullying, education, gun safety, mental healthcare, parenting and poverty.
Jesse Lewis Choose Love Foundation
Started by Scarlett Lewis, mother of Jesse Lewis, a 6 year old at Sandy Hook whose heroic efforts saved the lives of many of his classmates and who died with his teacher, Victoria Soto, this foundation is designed to promote curriculum in schools to promote the loving acts of kindness and love over actions based on anger.
Nurturing, Healing, Love
This is an amazing book by Scarlett Lewis, mother of Jesse Lewis, a 6 year old student who was killed at Sandy Hook. Her powerful testimony speaks of the power of forgiveness.
We Are Newtown
Get involved with making a difference in the world and honoring the 26 victims of Newtown through your acts of kindness. This site will help get you started.
letters to lawmakers.pdf – 81.7KB
NewtownChangesEverything.pdf – 5.17MB
Historical Notes:
2014 Objectives
Recruit Republican co-sponsors in the House to build support for Thompson King bipartisan bill. This bill seeks to strengthen background checks on gun purchases and is identical to the Senate bipartisan bill sponsored by Senators Joe Manchin (D-W. Va.) and Pat Toomey (R-Pa).
Work with Coalition Partners who share a similar vision. These partners include the Illinois Coalition Against Handgun Violence, Mom's Demand Action, Citizen Action IL, Rainbow Push and the Urban League.
Maintain a steady legislative focus on two specific House Republican Representatives from Illinois. Contact Rep. Rodney Davis (District 13) and tell him to: "Do the right thing…the time to act is now" and also contact Rep. Aaron Schock (District 18th) and tell him: "This is an opportunity to be a leader on issue of GVP in your party."
Participate in the April 14th National Day of Action Event. The exact nature and details of this event will be announced soon by our Illinois OFA leadership team.
---
Previous Events
06/21/2014 – 06/22/2014 – http://www.momsdemandaction.org/
Moms Demand Action is suggesting that no one shop at Target on the weekend and instead shop at one of the stores they list at their website that do not favor open carry of weapons. They would like everyone to take a picture of themselves with a sign saying #OffTarget and send it to them at: photos@momsdemandaction.org
02/11/2014 – Illinois Concealed Carry Law: What You Need to Know to Build Safer Communities for All Families and Businesses
Seating capacity at the Palatine Police Station Community Meeting room is limited. All seats will be held for those who have registered in advance at MyBO: https://my.barackobama.com/page/event/detail/gunviolencepreventionactionevent/gs83y2.
Thank you!
02/20/2014 – If you are interested in joining us and honoring all victims of gun violence through your individual actions to help make our communities safer, then come to our monthly Gun Violence Prevention Issues Group Planning Meeting at the Coffee Planet, 1450 Golf Rd., Rolling Meadows, 60008. We hold a short (30 – 45 minutes) Planning Meeting on the 3rd Thursday of every month and afterwards many of us stay to help out with the weekly NWSOFA Phone Banking. Our February meeting will be held on Thursday, February 20th at 6:30 pm. Thank you so much and we hope to see you at the Coffee Planet!
https://my.barackobama.com/page/event/share/gs8z2c#invite
[/orb-custom-list]