Sue Friedman and Florence Palumbo Zilka
Co-Team Leads
Mission:
"OFA is working to advance women's economic opportunities and to protect women's rights. NWSOFA Stand With Women continues to fight for our economic security, for women's leadership, and for our ability to make our own health decisions no matter where we live."
---
Contact Us:
If you are interested in joining this team please email us at:
2018 Word Cloud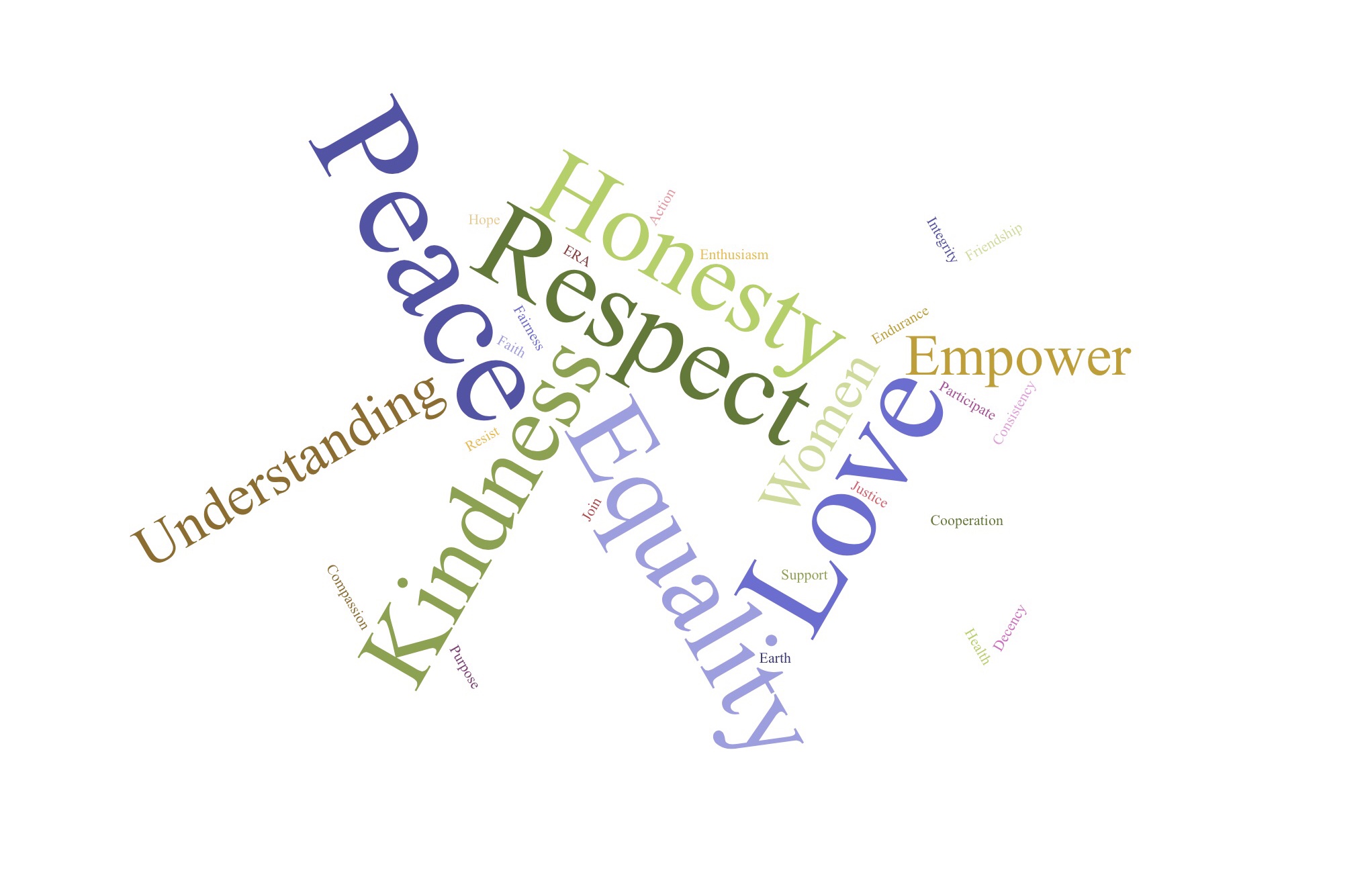 Previous Events

:
NWSOFA Film Presentation – "The Hunting Ground"
August 13 @ 2:00 pm

–

5:00 pm

Arlington Heights Memorial Library
College in America is NOT all fun and games and learning. There is a dark kept secret happening- sexual assaults. Help NWSOFA Stand With Women, College Outreach, and Diversity Outreach as we empower and ensure our wonderful young adults, heading off to a new and independent life at college, have the knowledge they need to make safe choices. Bring your high school juniors, seniors, and entering college freshman to our film presentation of the CNN documentary "The Hunting Ground."
RSVP:
See trailer for more information:
Sexual Assault on Campus Resources

:
It's On Us to Stop Sexual Assault
President Obama Launches It's On Us Campaign to End Sexual Assault – White House
Monday 6-23-14
Our Stand with Women and Fiscal Issues Teams are taking action by continuing our Raise the Minimum Wage Petition gathering. Over 400,000 signatures have been collected we need 1 Million to let Congress know raising the Minimum Wage is good for women and all families and good for the economy. Join us. We'll be at the Arlington Hts and Schaumburg Libraries and at the Palatine Train Station. Call Sara 847-372-5594 to sign up for the location and time that are good for you. Hope you can join us!
RSVP-https://my.barackobama.com/page/event/detail/gs8ypz
NWSOFA Minimum Wage Petition Drive
May 19 @ 2:00 pm

–

8:00 pm
Raising the minimum wage isn't just the right thing to do for workers, it would also boost our economy and our community. Despite support from 7 out of 10 Americans — including President Obama, members of Congress and state and local officials — lawmakers have refused to raise the minimum wage. Join supporters in your community to gather signatures for a petition to show lawmakers: It's time to give America a raise.
Time: Monday, May 19, 2014 2:00 PM – 8:00 PM
Host: Sara Horan
Contact Phone: 847-372-5594
Location:
Arlington Hts. Memorial Library (Arlington Heights, IL)
500 N Dunton
Arlington Heights, IL 60004
Directions: We will be collecting signatures by the main entrance to the library from the parking garage by the elevators.
Please call Sara if you can do any shifts 2-4,4-6,6-8
847-372-5594
RSVP https://my.barackobama.com/page/event/detail/gs8dwh
Organizing for Action
Stand with Women Monthly Mtg.
Tues. May 27, 2014 7-9 pm
Arlington Hts. Library
2nd floor room "I"
You're invited to our Stand with Women monthly meeting. We'll be exploring ways we can highlight issues that are unique to women but impact everyone. We have been very pleased with the crucial benefits ACA has guaranteed women such as non-discriminatory rates for insurance, free preventive care and reproductive health care, no more exclusion from pre-existing conditions and much more. Now our national focus is on economic issues including equal pay, raising the minimum wage, family leave, affordable child care. Bring your concerns and creativity and your friends for what is always an inspiring evening.
 To RSVP to the SWW Meeting – Click here!
Or call Sara 847-372-5594
Great website with information is the "Shriver Report", started by Maria Shriver, bringing women's issues to the forefront of the nation. http://shriverreport.org/
March is Women's History Month…Are you registered to vote? Check out why you should Stand with Women and vote: MarchIsWomensHistoryMonth (1)