Keith Moens – Lead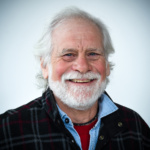 Mission Statement:
To Defend the Affordable Care Act from repeal by taking actions in defense of the act as well as by providing facts as to the value of the act to ALL Americans.
____________________
Governor Rauner Vetoes Legislation to Safeguard Key Healthcare Protections

This week, Gov. Bruce Rauner vetoed two key pieces of legislation designed to safeguard the protections of the Affordable Care Act: HB 2624, which would have put limits on short term health insurance plans, which provide weaker protections under the false guise of more affordable coverage; and HB 4165 which would have required a resolution from the General Assembly for Illinois to use a federal waiver to reduce healthcare access.

See Protect Our Care Illinois' statement and action steps. Stay tuned for more news as we try to secure overrides to these vetoes.
____________________
Understanding the Affordable Care Act
If you are not sure how the loss of the Affordable Care Act would affect your life, click on the link below for a comprehensive explanation from OFA National.
___________
What can you do?
Actions and Resources for New Volunteers
How can you stay updated about OFA…Join our OFA Monthly Volunteer Call — registration link
On the first Monday of each month, this call is open to all volunteers and will serve as a place to get updates from OFA on our issues. If you are interested in getting more information about the work we are doing, please join the call.

As our communication tool, new volunteers and supporters should join Connect to share best practices, brainstorm ideas and tout their successes. It's also the place where we can update folks about upcoming events & actions, share relevant policy updates, etc.

Join us on social media

Join the Truth Team — get the facts and help spread the truth
Actions YOU can take:

This is an entry point for those who want to learn more about how they can get involved in defending Obamacare.

Note: this will be very similar to the previous briefing call we had on January 11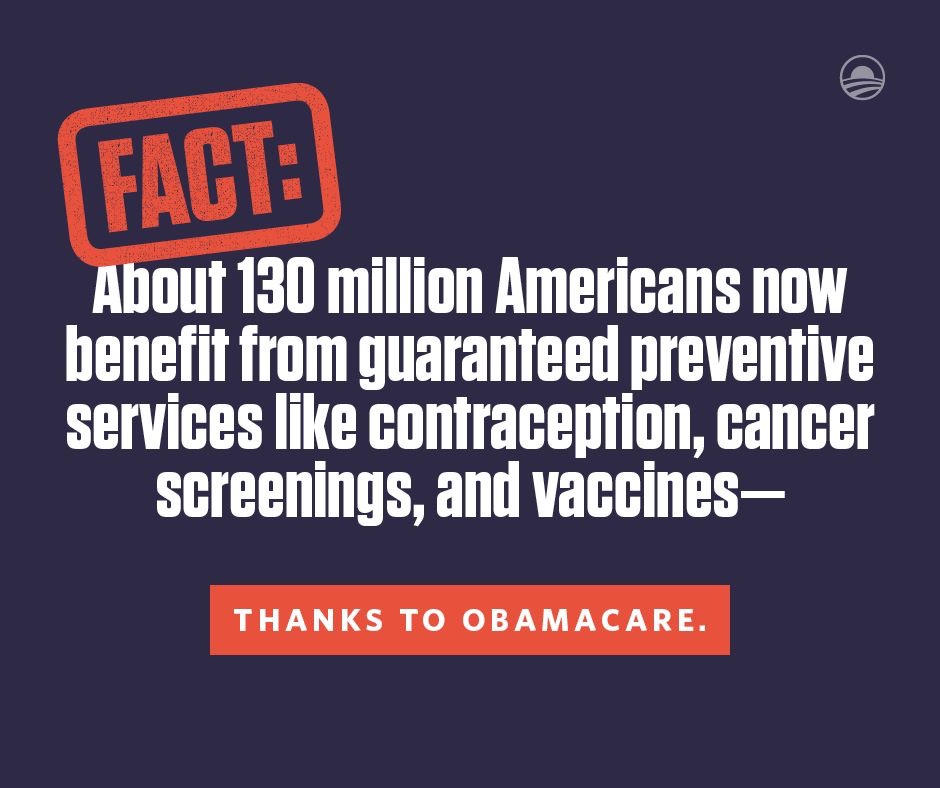 _________________
An Historical Look…
ObamaCare Enrollment Numbers Overview
By the end of open enrollment 2014 over 15 million Americans who didn't have health insurance before the ACA was signed into law in 2010 are now covered, bringing the total uninsured adults in the US from
18% to 13.4%
. During the year many dropped their plans, or didn't yet renew them for 2015. As of January of 2015 the current uninsured rate is
12.9%
according to Gallup
 (average from fourth quarter of 2014). The change is on par with projections, and is expected to increase each year.
We won't know exact enrollment numbers for each insurance type until well after folks have enrolled. What we do on this page is present the data we do have, analyze it and give you our educated estimates. Below you'll find links to official reports and our analysis of that data.
Let's look at some quick facts on the ACA signups and the start our detailed look at what factors contributed to the current enrollment numbers.
Enrollment Number Facts For Open Enrollment 2015
The above is only in respect to federal marketplace enrollments (
HealthCare.Gov
only). These enrollments don't count the 14 state's using their own marketplace (estimated at 2.4 million as of January 16th, 2015, you can also look at
state-by-state breakdown by HHS
), those who got covered through Medicaid and CHIP (
10 million
), young adults staying on their parents plans (
3 million
), plans outside of the marketplace, job based coverage, and more. Taking into account enrollment numbers so far, and the fact that the
employer mandate
begins this year, we could see a pretty drastic decrease in
uninsured
. We will have more detailed information as more reports come in.
NOTE: Last year 8 million people enrolled in a marketplace plan, not everyone kept their plan, and not everyone who kept their plan reenrolled. The current grand total of federal marketplace enrollments was about 6.5 million by the end of 2014. The current goal for open enrollment 2015 is 9.1 million paid on HealthCare.Gov.
Y
Our 2013-2014 Actions
OAKTON COLLEGE ENROLLMENT DRIVE 3/3 3/4  3/5 : The event was a big success!   Thank you  to Keith Moens, David Horwitz and Peg Lane for helping with Monday, Tuesday, and Wednesday shifts at Oakton College GET Covered enrollment drive. You helped refer MANY students to the enrollment table to get covered!
INDIAN TRAILS LIBRARY ENROLL TABLE

: Thank you Linda Wayce for volunteering for AM shift and to Lou Hoppe for volunteering for the PM shift on 3/5/14.
Thanks again to Renee Gladstone and Joan Brody  for volunteering to sit at the Indian Trails Library Get Covered table on 2/22/14 and 2/25/14.  Thank you to Tuly Rodriguez for volunteering to be our Spanish translator at the Indian Trails library shift 10-2 every Saturday from now untill the end of March!! You are heroes!  
Thank you to the 10 volunteers who have attended our ACA Get Covered phone bank at Panera. YOU are HEROES to all you call!!  
Thank you ~  Lou Hoppe – Data Entry,  Callers: Jimmy Stewart (trainer) ,  Linda Waycie, Kathy Niekrasz, Joe Gump, Peg Lane,  Herald Whyte, and Doug Blair. Antulia Rodriguez – Spanish translator who is a HUGE help.

February 11, 2014
ACA Day of Action Press Event –  Mile Square Health Center in

Chicago



Local supporters joined to hear from people in the community who are already benefiting from the law in order to help others learn how they can get covered.
Medill Published News Article:  http://bit.ly/1b22mal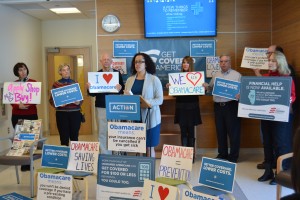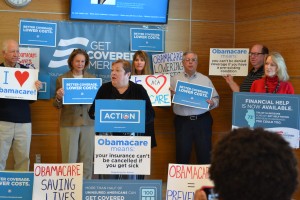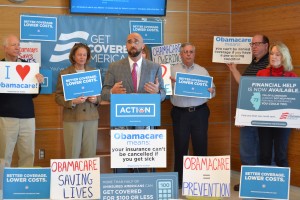 ________________________________
January, 2014 – Press Event at Chicago Temple followed by fliering at State & Washington, Chicago
November, 2013 – The team getting ready to "Get Talking During the Holidays"  in Buffalo Grove, IL
October, 2013 – Hearing from the experts in Arlington Heights, IL
August, 2013 – Getting the facts in Palatine, IL