NWSOFA Indivisible Fiscal and Economic Issue Team November Meeting
November 17 @ 7:00 pm

-

9:00 pm
RSVP: https://act.indivisible.org/event/local-actions/160951/signup/?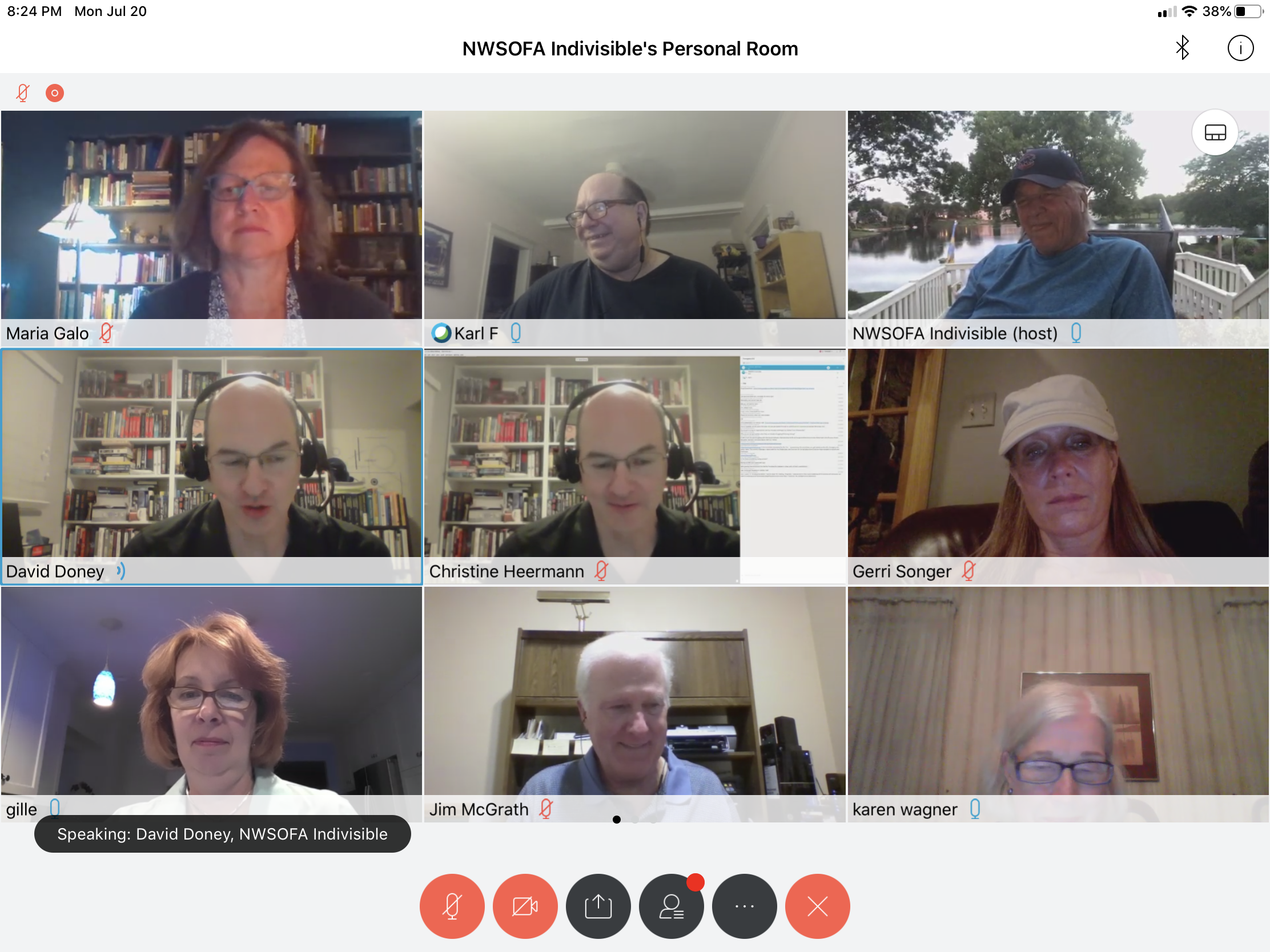 NWSOFA Indivisible November Fiscal and Economic Issues Meeting
Arlington Heights, IL 60006
| | |
| --- | --- |
| When: | Tuesday, November 17, 7:00 PM |
David and Karl will give an update on the US economy and the fiscal (budget deficit) situation on November 17th.
The US is in a recession that started in February 2020, before the first shutdowns due to Covid-19.
The US lost over 22 million jobs in March and April of 2020. Despite decent job recoveries from May-October, including +638,000 jobs in September, the US economy is still down over ten million jobs versus February; down over three million jobs since President Trump took office in January 2017. Prior months showed recoveries of 2.7 million jobs in May, 4.8 million in June, 1.8 million in July, 1.5 million in August, and 672,000 in September. The recovery is slowing. Even if it stops slowing, at the October pace of +638,000 jobs per month it will take another five (5) months before the Trump presidency is back in positive jobs territory and over 15 months before we are back just to the level of jobs we had in February.
Candidate Trump promised real GDP growth would exceed 4% if he were elected. It didn't happen. Before the recession real GDP growth was about 2.5% through the 4th quarter of 2019. Real GDP growth is now 0.9% since President Trump took office.
Candidate Trump promised to eliminate the federal deficit and pay down the federal debt within eight years. It isn't happening. Deficits have been increasing, not decreasing. The fiscal year 2020 budget deficit was $3.1 trillion, more than twice the previous record set in President Bush's last budget year.
I (Karl) don't understand how President Trump has a positive approval rating on the economy. Come join us and give us your thoughts.
You can review last month's PowerPoint presentation at https://drive.google.com/file/d/16TeOqfrAEyXd-Z0ue3uWhBa7rRuQ5tK6/view?usp=sharing
We will issue our November presentation before the meeting on the 17th.
Link to event information: https://nwsofaindivisible.my.webex.com/meet/ofa.nws