Confronting the Rise of School Board Disruptions
January 27 @ 7:00 pm

-

8:30 pm
Throughout the country and in Illinois, we have seen the rise of well-funded disinformation campaigns targeting school boards and educators.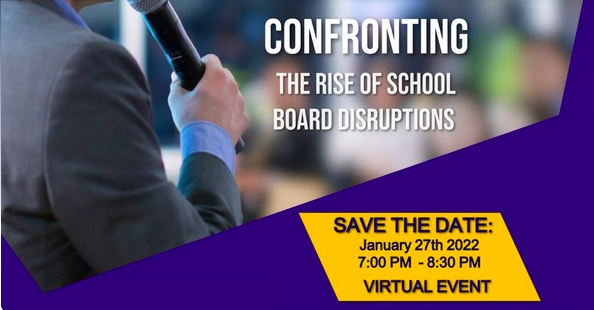 This event will cover: Who's behind the disinformation campaign around masks/vaccines mandates, an erosion of LGBTQ+ rights and the way race is being taught in our schools? How can we band together to support our school boards and staff who are being threatened and to protect public education?
Hear from an excellent panel and connect with others around Illinois who are organizing in their communities to stand up for inclusion, safety, and teaching a full and accurate history in our schools that protects all students
Panelists include:
— Jennifer Berkshire, Author A Wolf at the Schoolhouse Door
— State Senator Cristina Pacione-Zayas, Former VP Policy for Erikson Institute and ISBE board secretary and member
— Nathaniel Rouse, Director of Equity, Race, and Cultural Diversity Initiatives, Barrington 220
— Julie Harris, Educator of 31 years Tinley Park CCD146
Sponsors include: American Association of University Women Naperville Area, Asian Americans Advancing Justice – Chicago, Chicago NOW, DuPage County NAACP, Grassroots Collaborative, Illinois Families for Public Schools, Illinois Federation of Teachers, Illinois NOW, Illinois Muslim Civic Coalition, Indivisible Illinois, League of Women Voters of Chicago, Learning Disabilities Association of IL, NWSOFA – Indivisible, National Council of Jewish Women Chicago North Shore, North/Northwest Suburban NOW, Peoria NOW, PUSH Excel, Reform for Illinois, Will County NOW and Social Justice Alliance of Indivisible IL.