9 am COFFEE & CONVERSATION every M-F Morning talking about the "Stuff of the Day" @ 9 am – 10 am
January 3 @ 9:00 am

-

10:00 am
9 am COFFEE & CONVERSATION every M-F Morning talking about the "Stuff of the Day" @ 9 am – 10 am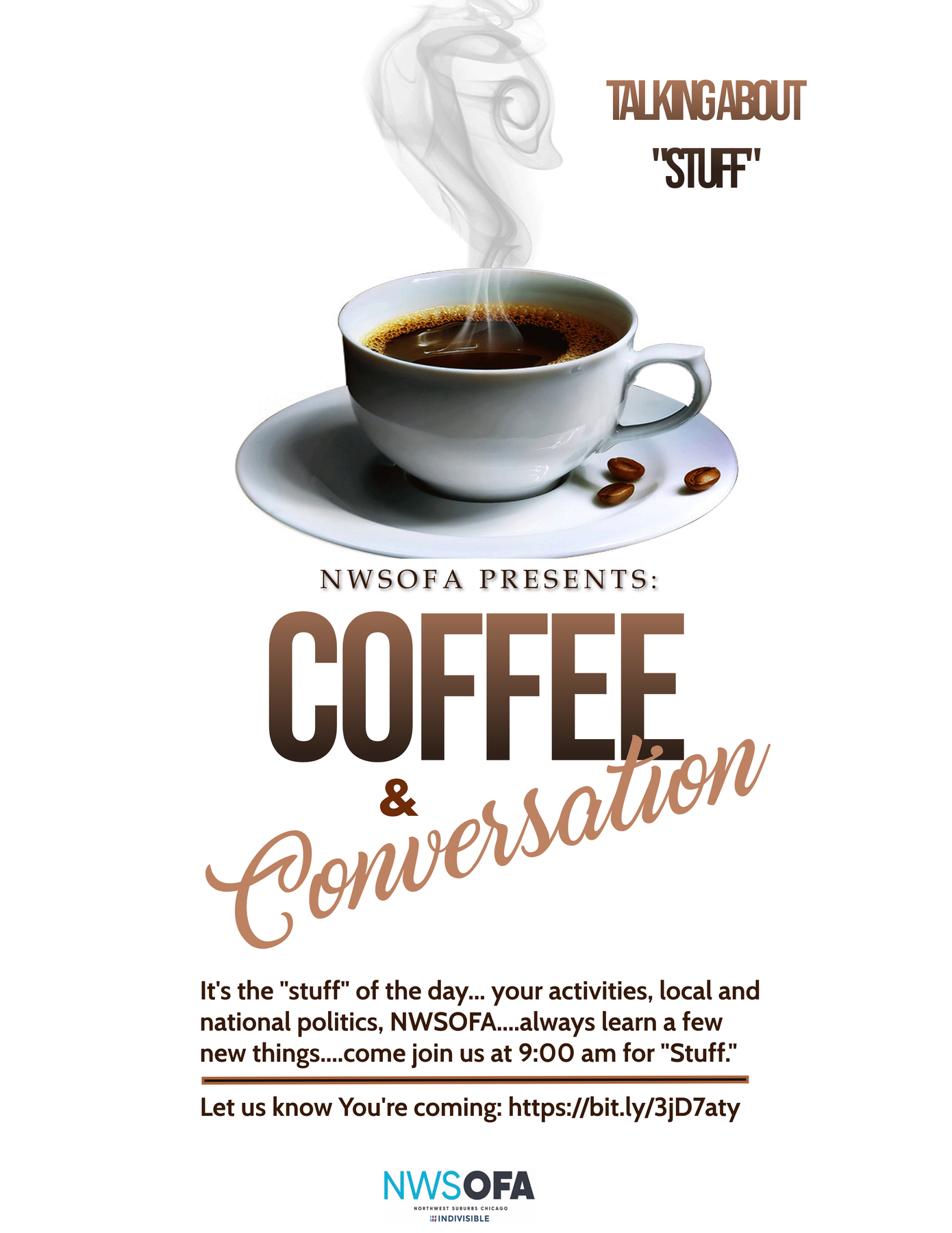 Our Coffee and Conversation will be open every Monday through Friday .. for those that wish to join at 9 am or anytime during the 60 min call..
Note: Starts at 9 through 10 am .. drop in whenever or for how ever long ..We list the above start at 9:45 to allow those who might join late after 9 to be able to register and join us on Zoom…
We have it set up that anyone can join and start the conversation about stuff.. … High on the list election Results … Bidens recent accomplishments, Amazing jobs numbers, flattening of inflation, New SCOTUS upcoming cases, Mar-a-lago FBI raid & DOJ Appeals, the Congressional Jan6th Report ,Highland Park 4th of July & TX school shootings, the excellent August BLS jobs report, followed by Inflation and the Ukraine Counter Attack .. and with a generous amount of Bears, Blackhawks, weather, Gun Violence, and what everyone is doing personally … kids games, trips, work etc..
Every morning M-F .. 'Coffee & Conversation" – Start Your Day off with great conversations.. and a cup of coffee.. talking about "Stuff" with fellow Progressives…
Who won and lost in sports, Local politics, Shootings in Buffalo & TX, Russia / Ukraine, roe v Wade, Taxes, economics, NATO, Immigration .. …"Stuff" that made you laugh, pissed you off, made you say "what????", or you just want to hear different perspectives..
Every M-F "Nothing has Changed but Everything is Different" .. Nothing has Changed: That's the "Stuff" were talking about.
This is where "Stuff" gets talked about and Facts get Presented..
But Everything is different "old what's his name is out .. and "Joe" is in.. and everyday the news cycle sets us up and we talk it through ..and it's virtual on Zoom.
Link to event information: https://bit.ly/NWSOFA-Zoom