OFA's Next Chapter
All On The Line Mar 1
By Barack Obama, 44th President of the United States
A few weeks ago, I reached out to tell you about a new chapter in our grassroots movement — a clearer focus on our fight against gerrymandering so that we can support fair elections and strengthen our democracy.
As part of that effort, I'm asking you to step up — just as you have done so many times before — to fight for our shared values. The All On The Line campaign may be a new home for this movement, but the work of grassroots organizing and the mission of perfecting our union remain the same.
On March 23rd, All On The Line will be hosting house parties all over the country — and I'm asking you to sign up to do the crucial work of organizing in your community.
Will you join our team today and show your support for this important work?
March 23rd is a special day not just because it's All On The Line's day of action, but because it marks the ninth anniversary of the Affordable Care Act. As you know, millions of Americans have health care coverage today because of that law.
Yet that progress remains under attack by political ideologues who've sought to repeal the law without a replacement and from those who've refused to expand Medicaid in their states.
The truth is, gerrymandering makes it a lot easier for politicians to stand in the way of progress on health care. When politicians are voted into an unrepresentative district, they're usually more concerned with a primary opponent than a general election.
That pushes political debates out to the extremes and away from the rational, reasonable solutions that most Americans support. It's true on health care. It's true on climate change. It's true on gun violence. It's true on making progress for working families.
I know that "redistricting" and "gerrymandering" sound awfully wonky. But fair districts couldn't be more important to a functioning democracy. It's the best hope for us to be able to honestly confront the many challenges we face. And with another round of redistricting slated for 2021, the work that we do over the next few years will shape the next decade of our politics.
This is our best shot to shift our elections away from the extremes and unlock possibilities on so many of the issues we all care about. Progress is on the line.
As citizens, we have a shared responsibility to shape the future of our democracy. It's our duty to make sure our leaders match the compassion and decency of the American people. That's what this fight is about and why I'm asking you to step up once again.
The Atlantic:
"Barack Obama Goes All In Politically to Fight Gerrymandering" Sara — We wanted to make sure you didn't miss our big news: The NDRC's 501(c)(4) affiliate, the National Redistricting Action Fund (NRAF), is combining forces with Organizing for Action to take our fight against gerrymandering to the next level! President Obama made the announcement late last month on a call with OFA activists. In his words, we're creating a "joint force that is focused on this issue of singular importance" — fair redistricting. We couldn't be more excited to incorporate the vast OFA network into our state-by-state efforts to win elections, advance court cases, and advocate for fair maps. With just two years left until redistricting in 2021, we need you more than ever to help us get our new alliance off to a rip-roaring start. President Obama is all in — what about you?
______________
All NWSOFA Members … We are being asked to tackle one of biggest problems in representative government starting in 2019 through 2021 …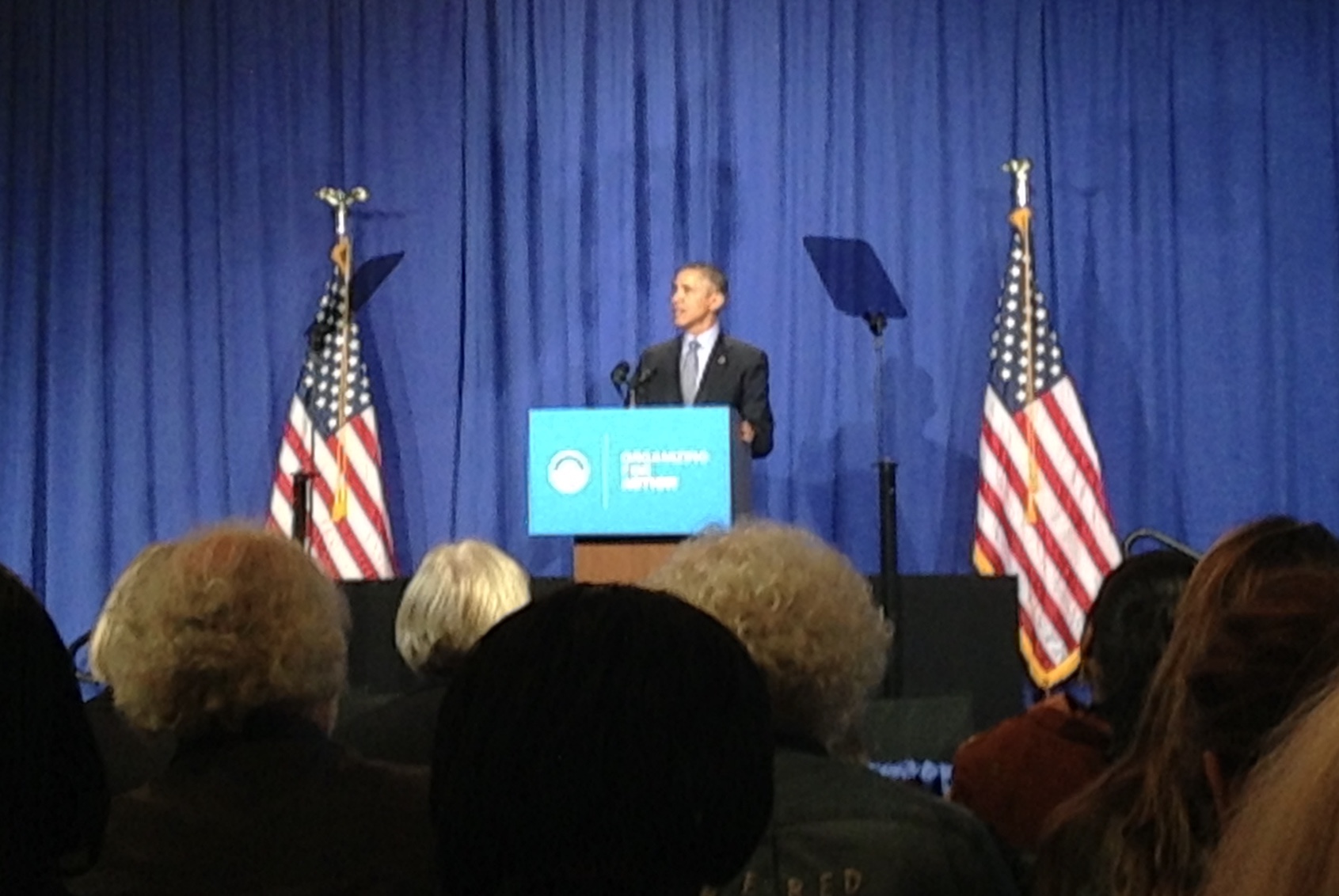 On Thursday night, Sara Horan, Kathy Carter and myself had the opportunity of a lifetime. We joined the OFA 2019 Directions conference call expecting to hear of minor tweaks to the OFA Chapters & Issue Teams re: next year's direction and how we would interface with Coalition Groups for continuied Electioneering interface in calendar year 2019.
We had received an email that a special guest would address us … so as we tuned in, we were delighted to have Katie Hogan .. head of OFA on the line and after a few glowing remarks about OFA's adaption in 2018 to the electioneeering process and the successes of 2018, Katie introduced another special guest .. President Barack Obama .. Likewise he expressed respect and great appreciation for what OFA had accomplished over our short history … re-inventing ourselves around our issue teams and days of action and most recently on the Electioneering front .. intergrating with our Issue Teams and adapting to OFA outright support for candidates that supported our issues .. and the great job that we did in 2018 local and national elections .
As President Obama was acknowledging the great work of OFA .. there was an emerging challenge to his voice as he started talking about the Redistricting Problems across the US .. and the valuable work that A. G. Eric Holder and a small staff had done over the course of 2017.. and how this now had to be Priority One for himself, Eric Holder and the NDRC and OFA.
President Obama is asking OFA and it's Chapters to re-invent themselves again in 2019 in the "all-in" most important structural fight of the decade on Redistricting by combining our forces with former Attorney General Eric Holder's National Redistricting Action Fund (NRAF).
For 2019 NWSOFA (as it is known now) will be integrating redistricting with everything we do .. every issue, every piece of electioneering .. much like we did with the "I will Vote" campaign and the Team 2018 local and national work with candidates at all levels. Actually more than "much like" but with the help and direction of the NRAF, Eric Holder and Barack and Michelle Obama. Starting in 2019 what we have done in the past will pale by what we will accomplish in 2019 and beyond.
Redistricting presents a chance to fundamentally reshape what is possible by restoring fairness to our democracy, accountability to our political leaders, and power to the will of the people. Across OFA's core issues, it's clear how sorely this shift is needed… OFA has been through many iterations and has continually adapted in pursuit of its fundamental goal to build a fairer, more representative, and more participatory democracy.
Given the unique opportunity that redistricting presents, this is a clear pivot point to ensure this once-in-a-decade opportunity gets the focus it demands. The results of the midterms – the prevailing gap between the distribution of votes and the distribution of power – only reinforces the importance of this strategic alignment. The partnership between our two groups made clear that our missions were aligning going into 2019, and we will be streamlining our organizations / our efficiency in tackling this colossal challenge together.
The next 3 months will mark a transition period, with OFA working to ensure that the Chapters and volunteers who have powered this grassroots movement have all necessary support as we move toward this new chapter. Additional programming announcements will be made in early 2019.
For now continue your issue team meetings .. using all the current tools you.. but expect to hear daily of new messaging and tools to do our new priority job.
Over the next three months we will learn more about the combining of OFA and NRAF forces and support teams .. expect great changes, expect small changes, expect some challenges, expect a new name, logo and banner .. expect more interaction with the President, Michelle and Eric Holder .. OFA will be re-invented as "those guardians of democracy".
As President Obama says in his news release " For more than a decade, through so many iterations, I couldn't be prouder of what OFA has accomplished. Each time I've summoned you for new challenges, you've answered the call and exceeded all expectations. You have inspired me and reaffirmed my faith in America. So I'm turning to you again. I'm asking you to be those guardians of democracy — to fight alongside me as fellow citizens in the hard but rewarding pursuit of a more perfect union."
Bill Davis, Sara Horan, and Kathy Carter
Climate Update:
NWSOFA "Tell Us Your Story" Video Documentary Series
[embedyt] https://www.youtube.com/watch?v=RI6BPZwUB0w[/embedyt]
Encouraging Words About Working Toward the Future by President Obama
[embedyt]https://www.youtube.com/watch?v=pPXw7jymWaM&start=708&end=912&rel=0[/embedyt]
President Obama's Closing Remarks at the First Obama Foundation Summit – 11/1/2017
[embedyt] https://www.youtube.com/watch?v=lHzWEor3Y2w[/embedyt]
Five years ago, in January 2013, we started as a gathering of friends and neighbors from the NW Suburbs who wanted to continue to have impact on the progressive issues we voted for in 2012. This grassroots, bottom up movement spread across the country and sparked the creation of Organizing for Action, OFA National, which now has Chapters all over the country. This is a non-partisan, volunteer organization that focuses on progressive issues we are committed to taking Action on to make a difference locally, statewide and nationally.
NWSOFA's first Issue Team was right after the tragedy at Sandy Hook. The Gun Violence Prevention (GVP) team felt we needed accurate information and facts, events to teach others and actions we could take to make a difference on pushing for common sense gun violence prevention. That has been our basic format as new issues arose and team developed. We now have the issue teams of Gun Violence Prevention, Affordable Care Act, Climate Change, College Outreach, Comprehension Immigration Reform, Fiscal Issues, Social Justice Outreach, Stand with Women, and new ones beginning in 2018. Check out their individual pages to see all the events they have scheduled and to join the teams you want to make a difference with.
OFA National coordinates "Days of Action" that Chapters across the country will all do on the same day. Each team also has local events and may work with affiliate organizations i.e. Sierra Club, Al Gore Reality Project, etc. to combine like-minded groups on a local, state or national event.
In this type of organization, there are numerous ways you can be involved with the teams and in other roles. We were looking for ways to get our events out through social media, press releases, and coalition partnerships. You may have a special skill we haven't even thought about give us a call we're always open to new ideas and teams.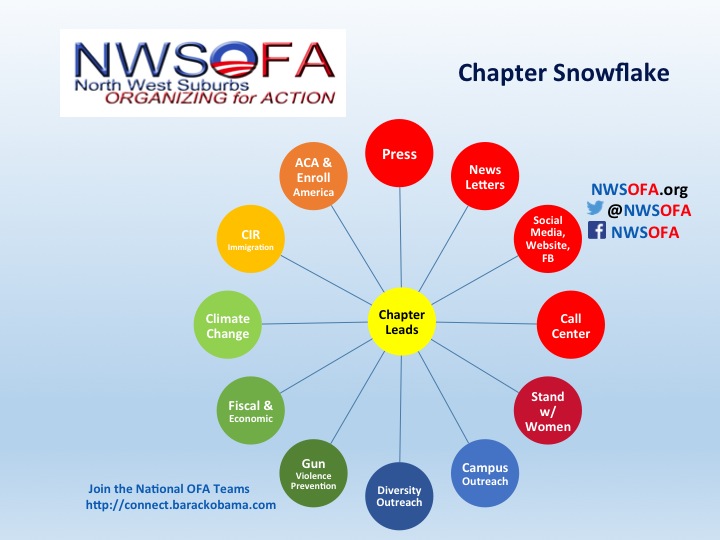 Grassroots Group Born Of Obama Campaign Now Helps Push His Causes
Thanks for stopping and hope you'll stay and join us.
Sara Horan and Bill Davis Chapter Co-Leads Sara Salvato Horan 847-372-5594
Respect, Empower, Include and ACT