Convening Nov 13th – Learn to be Part of the Solution not Part of the Problem
November 13 @ 1:00 pm

-

5:00 pm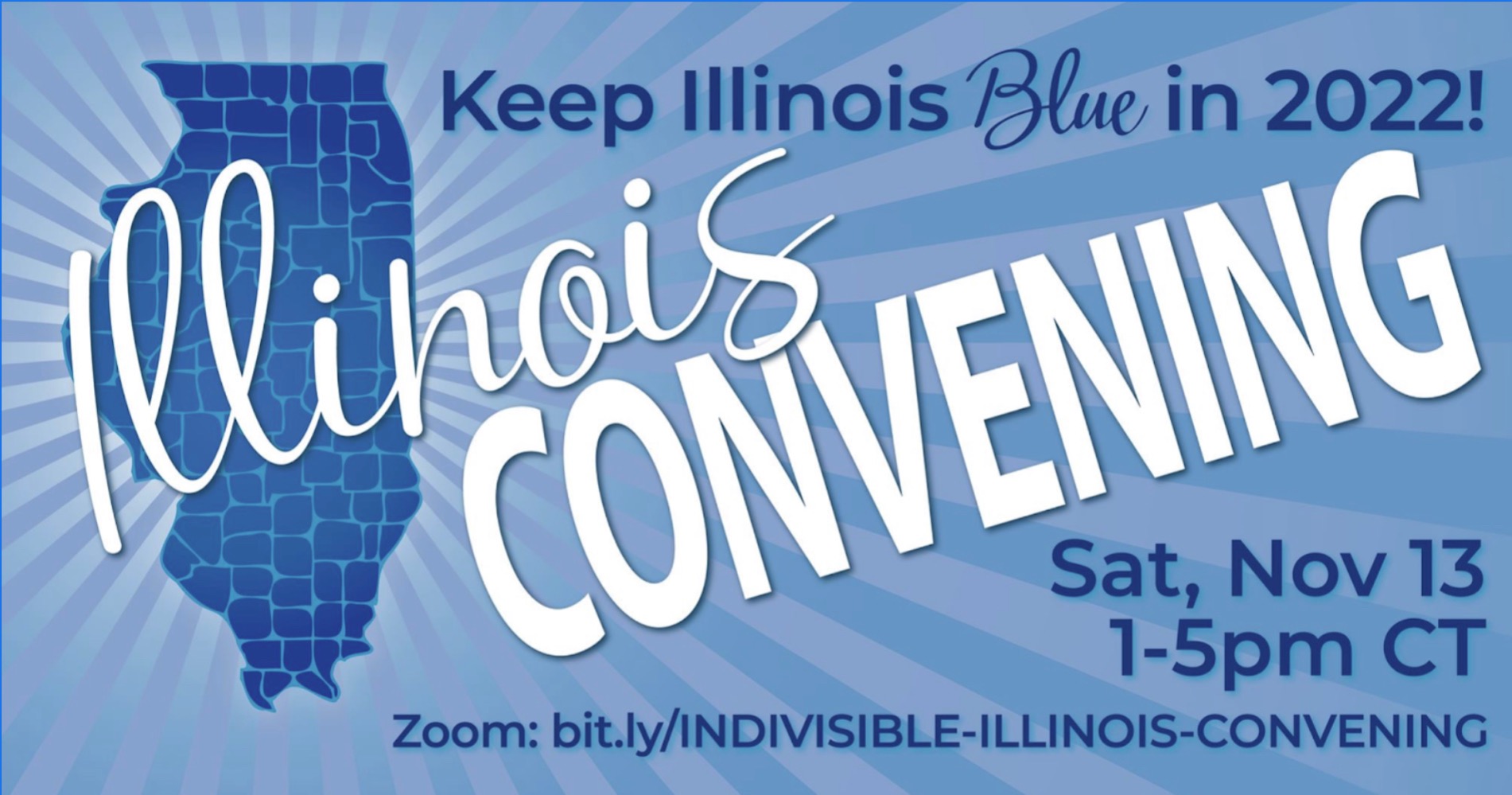 Convening Nov 13th – Learn to be Part of the Solution not Part of the Problem
| | |
| --- | --- |
| When: | Saturday, November 13, 1:00 PM |
Convening Nov 13th – Learn to be Part of the Solution not Part of the Problem
Indivisible Illinois' coalition of leaders and progressive groups will be hosting a free Convening on Saturday, November 13 from 1-5 pm.
What is a Convening, you say? It's an exhilarating get-together of progressive activists! Via Zoom, we'll hear from dynamic speakers, talk about issues that concern us, and get revitalized to work for the 2022 election to get out those voters for progressive candidates.
This Convening will be even more powerful with nationally renowned speakers, including: REVEREND WILLIAM BARBER, Co-Chair of the Poor People's Campaign, and EZRA LEVIN and LEAH GREENBERG, Founders and Chairs of Indivisible National. It also includes HEATHER BOOTH, a civil rights activist and a leading strategist for progressive issues.
ARE YOU TIRED OF WATCHING THE NEWS AND FEELING FRUSTRATED? ARE YOU A PROGRESSIVE ACTIVIST–OR WANT TO BE? DO YOU WANT TO GET PSYCHED UP FOR 2022? THEN COME TO INDIVISIBLE ILLINOIS' "CONVENING!"
As a participant, you will be part of an incredible opportunity – helping: people, Indivisible groups & chapters, communities (rural & metro) and partnering organizations connect people with purpose to ideas and opportunities after a year and a half of being isolated by Covid.
https://act.indivisible.org/event/local-actions/164479
You will be immersed in a redesigned next level experience. One for all of Illinois Indivisibles and progressive groups that combines inclusive community engagement opportunities, education on developing capabilities, capacities and commitment for 2022 and a re imagined Indivisible IL outreach through 2023 – "Roadmap to 2023".
Connecting people with purpose is what Indivisible does better than anyone else. You and your members need you more than ever and the Indivisible Convening 2022 will help you bring renewed purpose back to life and energy for the upcoming 2022 elections.
The 2022 Indivisible Convening is our time and we are ready because we are more than a singular person, or a chapter,.. together with common purpose, we are a movement.
Sign up now .. let us know you will be attending. The 2022 Convening and it's expert speakers "Will Make You Feel Better About You and our country's Future"–
So, join the Indivisible Illinois statewide group on Saturday November 13, from 1-5 pm on Zoom.
The Women's March created the energy .. NOW, the Convening (Nov 13th @ 1 pm) will harness that energy for the fight ahead!
We are looking forward to seeing you all there.
Link to event information: https://indivisible.zoom.us/meeting/register/tJwrc-CqpjstHtUkw4Dkv902pkz0k-UX4Wot?fbclid=IwAR0JPX2jdWaDWx8TthFEACw6ejzTfXFf37x6GSVLo2OJmJgvRd_D4vVAkuM